COVID-19 accelerates maritime insecurity
COVID-19 accelerates maritime insecurity
INDUSTRY WATCH | 2 NOVEMBER 2020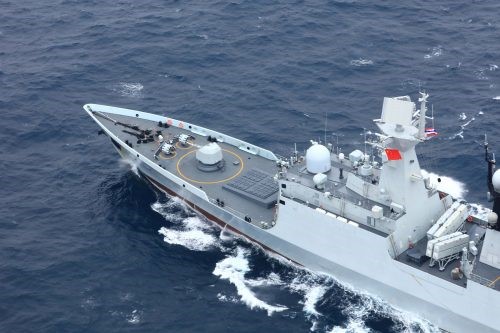 COVID-19 is showing the world how a health crisis can exert disproportionate pressure on existing social and political fissures. The Asia Pacific maritime environment is no exception, with hybrid challenges persisting and non-conventional incidents on the rise. As state budgets adjust to accommodate the health crisis, non-state actors are escalating violence on land that is spilling over into the maritime domain.
Before the onset of the pandemic, illegal, unreported, and unregulated fishing incidents were gaining recognition as a serious security issue. Known as hybrid challenges, these incidents are characterised by the combination of regular and irregular tactics used by adversaries to exploit non-conventional concerns to gain an asymmetric advantage. These tactics include the use of criminal behaviour, subversion, the sponsorship of proxy forces, and even military expansionism.
COVID-19 is not hindering state and non-state actors from posing maritime hybrid threats despite national budgets being diverted to crisis response. The sinking of a Vietnamese fishing boat near the Paracel Islands, harassment of supply ships off Sarawak, and China's annual announcement of a fishing ban are some irregular hybrid tactics that persist alongside the global pandemic.
Non-state actors are also exploiting the health crisis and perceived weakening of state capacity to heighten domestic violence, with negative consequences for the Asia Pacific's maritime domain. Organised violence in Myanmar's Rakhine and Chin states increased by 74 per cent from January to April 2020 compared to the year before. This increase in violence is causing mounting civilian fatalities, displacing villagers and pushing migrants out to the Andaman Sea — a maritime route into other regional countries. As countries reject migrants for fear of spreading unidentified infections, the exodus under pandemic conditions could trigger a repeat of the 2015 migration crisis.
There has also been a marked increase in piracy and armed robbery incidents during this period. The Regional Cooperation Agreement on Combating Piracy and Armed Robbery against Ships in Asia (ReCAAP) Information Sharing Centre reported a two-fold increase in the number of piracy and armed robbery incidents from January to June 2020 as compared to 2019. Security arrangements such as the Eastern Sabah Security Command were also on high alert after receiving information of a raised risk of armed Abu Sayyaf Group (ASG) members targeting vessels in the Sulu and Sulawesi seas.