The naval ships of the future
The naval ships of the future
INDUSTRY WATCH | 24 AUGUST 2021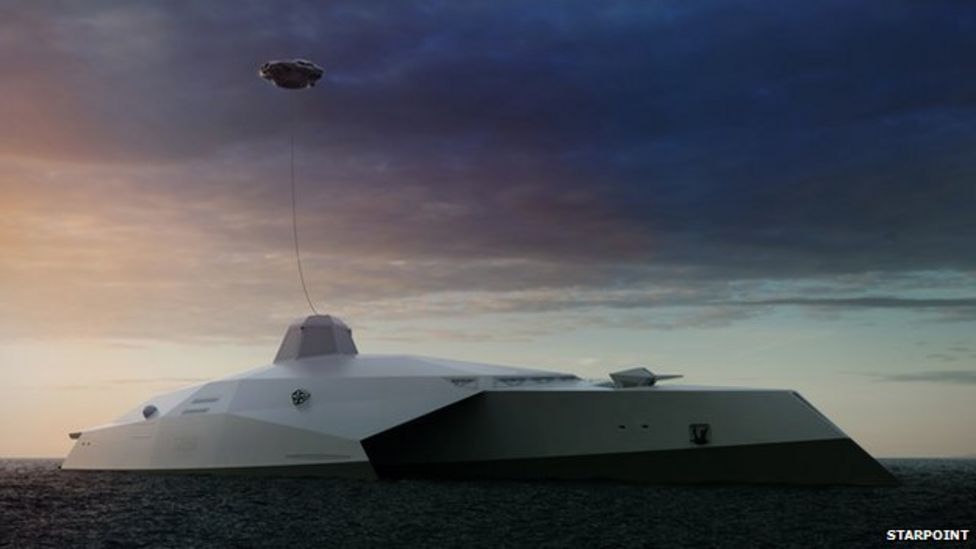 Startpoint

Data is set to be king when building tomorrow's intelligent ship
Stealth, lasers and electric technologies may come to mind when thinking of what a futuristic naval ship might look like in the future. But that might be only skin-deep, say observers.
The intelligent vessels of tomorrow will see futuristic "hyper-intelligent" frigates performing the role of multiple ships at once – computing and calculating multiple data sets along various points of threats or information, acting as a "mothership" for its autonomous vehicles on board, and revolutionising a cultural shift in the way it recruits the next generation of sailors for this digital revolution.
Faster, data-driven decisions
The fastest decisions will win on and off the battlefield, which is why data-centric maritime planning and decision-making will be leading the evolution.
Intelligent ships will be able to process data sets from state-of-the-art sensors, secure satellites and radars, intelligence agencies, government or commercial data and other branches of its armed forces to aid any mission they're on.
Personnel will have a glut of metrics to combine – from wave and weather patterns to on-board machinery performance to calculate route planning for smarter fuel consumption; from satellite, laser, global positioning systems (GPS), automatic identification systems (AIS) and sonar detection to drone and other unmanned robotic imagery for greater monitoring and location accuracy; and from real-time data sharing to management between branches of the armed forces and intra-regional partners for synchronised planning, to name a few.
Feeding off this infusion of data, AI and machine learning will continue to improve with each mission as it learns trends, anomalies and outcomes in everyday decision making. Once fine-tuned, AI can assist in complex or linear computations so sailors can focus on holistic strategies and ethical decisions more often and quicker.
As sea trade continues to thrive in the wake of an aviation slowdown and Asia's export growth, emphasis will be on maritime defence, says experts, and this will aid in more efficient maritime patrols to identify and respond quicker to threats and to commercial fleets in distress.
"AI can help in some ways with issues related to maritime domain awareness (MDA)," says Dr Collin Koh, Research Fellow at the S. Rajaratnam School of International Studies.
"Integrated with radar and other systems, AI and other emerging technologies can help pick up nuanced anomalies and enhance navies' MDA capabilities," adds Dr Koh.
Autonomous help
Exploiting vast amounts of data, futuristic frigates and littoral combat vessels (LCVs) may leverage a mix of traditionally manned, semi-autonomous and autonomous vehicles, from small unmanned underwater vessels (UUVs) and unmanned surface vessels (USVs) to unmanned aerial vehicles (UAVs).
These can be used in reconnaissance missions in dangerous deep-sea waters or along shallow coastal regions, allowing navies to deploy surveillance that might commonly need to operate independently for days or weeks at a time.
Imagine complex rescue missions in harsh environments that pose a high-risk to personnel, such as rescue missions for damaged commercial or fishing ships in high seas, or search and rescue missions along earthquake-hit coastal communities.
Autonomy combined with high-powered sensors and lightning speed data transfers will greatly improve the odds in these critical missions while mitigating the loss of life where accuracy, response and access are critical.
Manpower shift
The shift to a data-driven and intelligent naval force will not just influence the hardware or software navies employ, but also its next-generation workforce.
The data revolution will influence how fleets will be staffed because you'll need a new, skilled workforce – much like the workforce in the private sector – to programme, understand, interpret and make decisions along high- and low-level data.
To that end, the next generation of sailors looks set to be a hybrid fighting force, trained in combat but also data analytics and computational skills, allowing them to integrate intuitively with state-of-the-art machinery. With smart data set to drive the evolution of navies in building more intelligent ships and autonomous vehicles, the region can look forward to smarter, more informed tactics, decisions and operations at sea.
---
Connect with the IMDEX Asia community
Stay above the ground with key curated trends, developments, and connections to the community in naval & maritime defence. Subscribe to our mailing list for industry updates!